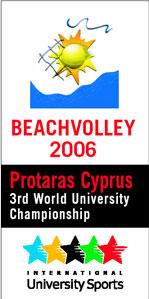 Protaras, Cyprus was the venue for the 3rd edition of the World University Beach Volleyball Championship. The 149 participants from 22 countries and 4 continents overcame the scorching heath to play a thrilling championship. In the hottest temperature of the day (35°C) and without any wind, Team USA1 beat Germany2 in the men's bronze medal game. USA won in two sets (21-14, 22-20).

In the women's bronze medal game a strong German Team2 beat France1 in a two set matches (10-21, 17-21).
The Men's final between Germany1 and Switzerland2 was broadcasted on the national television. Both teams played a stunning game, and after the first set in favour of the Swiss (24-22), the Germans regrouped and won the second set (21-18). However, in the third set, Team Switzerland proved to be the best beating their opponents 15-9.
The Women's final took place immediately after the men's final and was played between France2 and Germany2, with Team France2 winning this final in two sets (21-16, 21-19).